You are here
TARGET2-Securities
TARGET2-Securities (T2S) is a Eurosystem technical platform that provides securities settlement services against central bank money (euro and other eligible currencies, provided the issuing central bank is linked to T2S).
T2S joins cash and securities accounts in the same technical platform.
In parallel, relationships are established between institutions holding securities accounts and central securities depositories and between institutions holding cash accounts and central banks.
The system offers European central securities depositories (and through these, their customers) the possibility of trading securities efficiently and securely, under the same technical and pricing conditions, thus contributing to the integration of securities markets in Europe and to financial stability.
The platform went live on 22 June 2015. The Portuguese community started working on T2S on 29 March 2016, joining the Belgian (that started on the same day), Greek, Maltese, Romanian, Swiss, and Italian communities.
Transactions processed in T2S 
Oversight
The Eurosystem is responsible for overseeing TARGET2-Securities, in cooperation with all authorities with a common interest in the architecture, operation and prudent management of T2S services.
Information for professionals
Participation
Institutions complying with the requirements for direct participation in TARGET2 can hold cash accounts in T2S.
For managing liquidity in the cash account, institutions can link directly to T2S provided they engage the services of one of the suppliers authorised for that purpose or, alternatively, they may use the value added services provided by TARGET2.
For more detailed information please consult Annex II A – Harmonised Conditions for opening, debiting and crediting a dedicated cash account in TARGET2, of Instruction of Banco de Portugal No 54/2012.
For detailed technical information on the modes of connectivity please visit the ECB's website.
Functionalities
T2S provides a series of highly sophisticated functionalities for the management of the life cycle of securities instructions, liquidity management, static data management, and information management.
The following types of securities settlement instruction are allowed:
Free of payment (FOP) – it is a DFP (delivery free of payment) operation and an RFP (receive free of payment) operation. In both cases securities are delivered or received with no cash exchange;
Delivery or receive versus payment (DVP/RVP) – the exchange of securities and funds occurs simultaneously;
Delivery with payment (DWP/RWP) – the delivery of securities and funds is carried out through different operations. For example, clearing by a central counterparty may result in these two types of instruction;
Payment free of delivery (PFOD) – an instruction where only cash and no securities are delivered, typically in the settlement of corporate events.
T2S provides the following liquidity management services: liquidity transfers to and from TARGET2, auto-collateralisation operations to obtain intraday liquidity, the possibility of reserving liquidity and defining limits, and also the possibility of optimising the use of liquidity and collateral.
Static data management allows reports to be designed, messages to be prepared and user access to be defined according to areas of responsibility.
For detailed technical information on the operating rules please visit the ECB's website.
Calendar and timetable
T2S is available for processing securities settlement instructions not involving the delivery of cash every working day, New Year's Day, Christmas Day and Boxing Day. However, for transactions involving the settlement of funds, the calendar is that of TARGET2.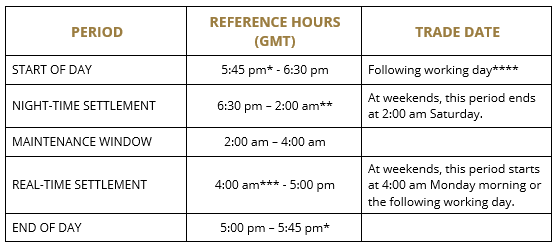 Pricing
For more details access Pricing.
Releases
The Eurosystem, in order to respond to the business needs of its stakeholders, seeks to continually improve the market infrastructures it provides. To this end, new versions of the systems - releases - are planned and implemented, which include technical/functional changes, the introduction of new features and/or the resolution of problems.
Information on future T2S releases can be found in Future T2S Releases. Releases already implemented can be consulted in T2S Historical Releases.