You are here
SICOI
SICOI (interbank clearing system) is the retail payment system managed by Banco de Portugal. This system processes and clears retail payments made with cheques, bills of exchange, direct debits, credit transfers, instant transfers and payment cards. 
SICOI's smooth operation is instrumental to the stability and efficiency of the Portuguese financial system and economy.
Operations processed at SICOI in 2017
SICOI is made up of six subsystems, corresponding to the six payment instruments covered (cheques, bills of exchange, direct debits, credit transfers, instant transfers and payment cards).
Payment orders by customers are sent by participating institutions to SICOI throughout the day and up to specific cut-off times. At the time fixed for closure in each subsystem, operations are processed and sent to the participants.
Subsequently, for payment orders up to €100,000, final net balances are computed for settlement between the system participants. The computed balances are then sent for settlement in TARGET2.
Transactions of over €100,000 are settled on an individual basis using TARGET2.
Information for professionals
Subsystems
SICOI is made up of six subsystems, corresponding to the different payment instruments:
Cheques and similar documents
Processes euro-denominated cheques and similar documents (including postal money orders, Social Security payment orders and payment orders for totalisator betting winnings), drawn on accounts domiciled in Portugal and payable by this subsystem's direct or indirect participants.
Bills of exchange
Processes euro-denominated commercial bills, promissory notes and receipts payable by any participant in this subsystem.
Direct debits
Processes euro-denominated direct debit transactions payable by any participant in this subsystem.
Overall, these transactions relate to periodical payments for the supply of water, electricity, telephone, gas, insurance, rent or loan instalments.
In SICOI, all authorisations granted are registered in a centralised database, which makes it possible to confirm underlying debit authorisations for each direct debit transaction initiated by the creditor.
Interbank electronic transfers
Processes euro-denominated dematerialised transfer orders payable by any participant in this subsystem.
Payment card transactions
Processes transactions conducted through the Multibanco network: withdrawals, deposits, payment of services, payments to the State and the public sector, purchases and Via Verde toll payments.
Instant transfers
Processes instant transfer orders, expressed in euro, in real time, through any payment service provider participating in the subsystem, with provision of the funds to the beneficiary in real time.
Operating rules
SICOI's operating rules are described in the SICOI Regulation (Instruction of Banco de Portugal No 3/2009 and Instruction of Banco de Portugal No 8/2018) and in each subsystem's functioning manuals.
The operating manuals of SICOI's subsystems are provided exclusively to participants on the BPnet website.
Participation
Participation in SICOI depends on an authorisation of Banco de Portugal.
Banks, savings banks, the Central Mutual Agricultural Credit Bank and mutual agricultural credit banks can participate in SICOI, as well as other credit institutions authorised to operate in Portugal, even where providing cross-border services.
Banco de Portugal may also deem other entities as eligible to participate in SICOI.
Participation in any interbank clearing subsystem may be direct (the institution settles its own transactions) or indirect (where settlement is conducted not by the entity, but rather by a direct participant).
In order to participate in any SICOI subsystem, entities must send Banco de Portugal the duly completed application form and certification that they comply with the necessary technical and operational conditions, as established in each subsystem's operating manuals.
The form and the certification must be submitted to Banco de Portugal at least 25 business days before the date forecast for the start of participation.
Calendar and timetable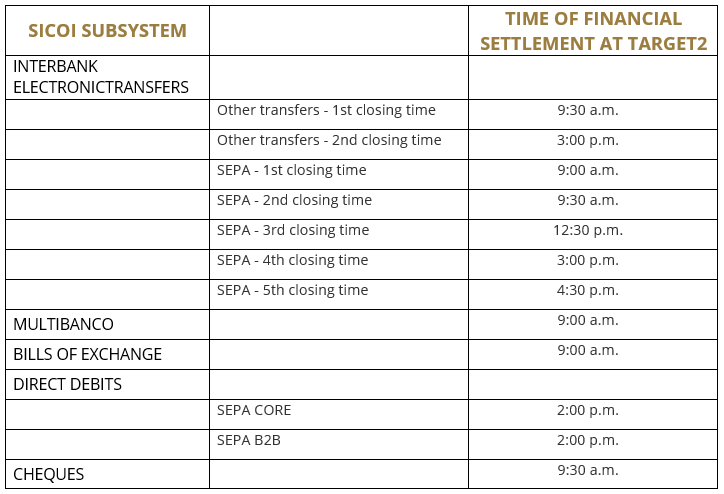 Pricing
Prices charged to participants in SICOI were established so as to ensure that Banco de Portugal recovers the costs incurred with the management of the system and the settlement of transactions in TARGET2.
Prices are broken down into two components: the monthly participation rate by subsystem or subsystem strand and the rate per transaction. For more details access Pricing.
Customer to Bank Services
The Portuguese banking community developed a harmonised communication format, applicable to SEPA credit transfers and SEPA direct debits, with the purpose of facilitating the link between customers and banks. This harmonised communication format is described in 'Customer to Bank Services (C2B)'.
Direct debit authorisation model
The Portuguese banking community developed a harmonised format for direct debit authorisation, applicable to SEPA Core and B2B direct debits.