You are here
Economics in a picture
17.11.2023
Portuguese firms have increasingly adopted of digital and information and communication technologies, but the level is still limited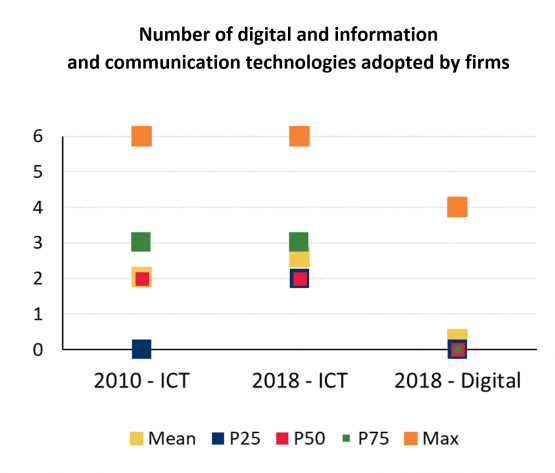 Information and communication technologies (ICT) and digitalization are at the heart of the technological transformation that has occurred in firms around the world over the last three decades. The expected positive effects of these technologies have justified the channeling of large amounts of public funds to build infrastructure and to encourage investments in ICT and digitalization in firms.
Although there is a great diversity of technologies of this type, it is possible to select as the most representative six ICTs - existence of a PC in the firm, Internet connection, website, ICT personnel, online purchases, and online sales - and four digital technologies - existence of robots, 3D print, cloud computing and big data. Based on the responses to a survey on the use of information and communication technologies in firms, conducted by Statistics Portugal, the distribution of the number of technologies adopted reveals progress in the adoption of ICT, but still at low values. The 25th percentile of the number of technologies adopted rose from zero to 2 between 2010 and 2018 and the average rose from 2 to 2.6 in the same period. The adoption of these technologies is much lower in the digital dimension (median of zero) than in the ICT dimension (median of 2).
There is evidence of concentration of ICT in larger firms in terms of turnover or employment. Firms that use ICT more intensively are also more productive, pay higher wages and export a greater proportion of sales. The causal evidence of the impacts of adopting a set of ICT elements is not strong, although it points to positive effects on productivity per worker and wage.
For more details see Amador and Silva (2023), "A View on ICT and Digitalization in Portuguese Firms", published in the Banco de Portugal Economic Studies, volume IX - nº4.
Prepared by João Amador. The analyses, opinions and findings expressed above represent the views of the author and not necessarily those of Banco de Portugal or the Eurosystem.
If you want to receive an e-mail whenever a new "Economics in a picture" is published send your request to info@bportugal.pt.