You are here
Economics in a picture
10.11.2023
The real GDP rate of change is little revised following its initial release presenting afterwards more significant revisions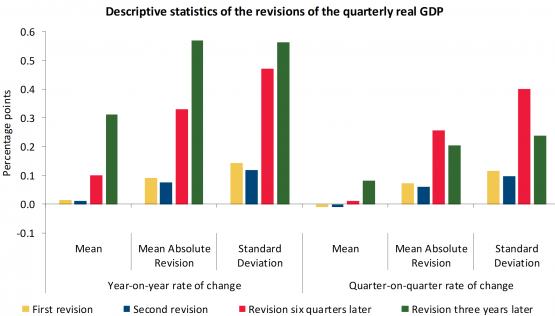 The mean revision, the mean absolute revision and the standard deviation are three typically used measures to evaluate the revisions of real GDP rates of change, both in year-on-year terms and vis-à-vis the previous quarter. These measures provide information on the size, the sign of the revisions and their volatility. In the period immediately after the release of the first estimates, the revisions are very small. However, for longer revision periods, the revisions are in general larger and present higher volatility. In particular, the revisions after three years, which already reflect final national accounts, are on average positive and statistically different from zero while the mean absolute revision and the volatility are higher than those observed for the first revisions. Furthermore, in general, GDP is revised upwards in years of growth and downwards in years of fall.
For more details see Cardoso, Gouveia and Rua (2023) "From first to last: the National Accounts revisions", Banco de Portugal Economic Studies, Vol. IX, No. 4.
Prepared by Fátima Cardoso, Carlos Melo Gouveia and António Rua. The analyses, opinions and findings expressed above represent the views of the authors and not necessarily those of Banco de Portugal or the Eurosystem.
If you want to receive an e-mail whenever a new "Economics in a picture" is published send your request to info@bportugal.pt.