You are here
Economics in a picture
03.11.2023
The percentage of young homeowners with a housing loan is higher in recent generations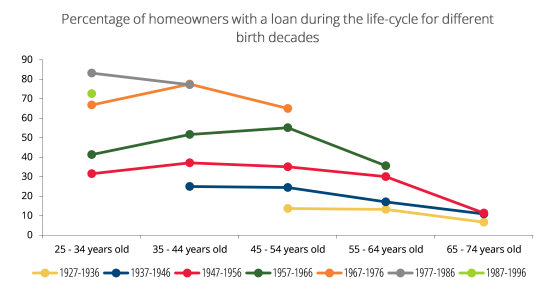 From the second half of the 1980s onwards, there were important changes in Portugal that facilitated access to credit for many households. These include the liberalization of the financial system, the sharp drop in the interest rates to euro area levels and the implementation of policies to encourage house purchase using bank credit, for example, through subsidized credit.
According to Census data, 14% of the homeowners had a housing loan in 1981. This percentage more than doubled by 2001 and reached a maximum of 43% in 2011. Improved access to credit mainly benefited the generations born after 1966 (who turned 25 after 1990). The generation born between 1977 and 1986 recorded the highest percentage of homeowners with a loan in the age group of 25 to 34 years old.
For more details see the Special issue "Housing in Portugal over the last 40 years: tenure status and access to credit", published in the Economic Bulletin of Banco de Portugal, October 2023. 
Prepared by Sónia Costa, Luísa Farinha, Nuno Lourenço and Renata Mesquita. The analyses, opinions and findings expressed above represent the views of the authors and not necessarily those of Banco de Portugal or the Eurosystem.
If you want to receive an e-mail whenever a new "Economics in a picture" is published send your request to info@bportugal.pt.