You are here
Economics in a picture
15.09.2023
The public sector is no longer attractive for graduates in the early stages of a career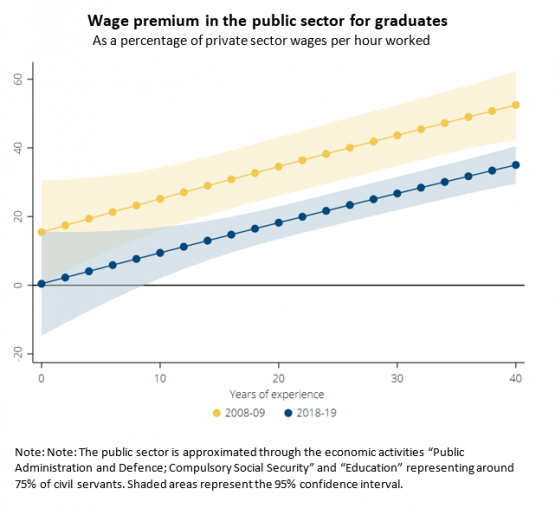 The wage premium in the public sector, controlling for worker characteristics, is positive on average in 2018-19. Using a wage equation that allows individual characteristics to be remunerated differently in the public and private sectors makes it possible to break down the wage premium by educational level and professional experience.
It is found that the return from professional experience, albeit positive in both sectors, is higher in the public sector, resulting in a growing wage premium throughout a career. This result is influenced by older careers in the public sector, i.e. initiated before the significant changes they underwent from 2007 onwards.
Focusing on workers with a university degree, it is concluded that this increasing profile of the wage differential remained in 2008-09 and 2018-19, with a roughly even reduction throughout the career. In 2008-09, there was a premium at all levels of experience, which is no longer the case for recent graduates at the beginning of their careers in the most recent period. As a result, the public sector has lost the ability to attract young graduates compared to the private sector.
For more details see "Policy insights – Public-private wage differential in Portugal", Economic Bulletin of Banco de Portugal, June 2023.
Prepared by Cláudia Braz, Manuel Pereira and Sharmin Sazedj. The analyses, opinions and findings expressed above represent the views of the authors and not necessarily those of Banco de Portugal or the Eurosystem.
If you want to receive an e-mail whenever a new "Economics in a picture" is published send your request to info@bportugal.pt.