You are here
TARGET2
TARGET2 is the second generation of the Eurosystem's real-time gross settlement (RTGS) system, where typically large-value euro-denominated payment orders are processed and settled against central bank money. In terms of processed amounts it is one of the biggest payment systems in the world.
This system is intended to support: (i) implementation of the Eurosystem's monetary policy and the interbank money market in euro; (ii) the reduction of systemic risk and; (iii) the increase in the efficiency of cross-border payments in the European Union. 
TARGET2 offers credit institutions and ancillary systems a series of functionalities that allow for efficient management of liquidity and the effective and reliable settlement of payments, under the same technical and pricing conditions. It thus contributes to the integration of financial markets in Europe, to financial stability and the implementation of the euro's monetary policy.
Transactions processed in TARGET2 
How are transactions processed?
TARGET2 is based on a single shared platform (SSP) developed by the Eurosystem. Each central bank is responsible for its participants, which may be payment institutions or infrastructures, the so-called 'ancillary systems'.
Banco de Portugal operates the Portuguese component of TARGET2, TARGET2-PT.
TARGET2-PT processes a broad range of payments, covering:
payment orders resulting from monetary policy operations
interbank payments and payments from domestic and cross-border customers of institutions participating in the Portuguese component, on their own behalf or on the behalf of customers
the settlement of balances computed by clearing in the system's participating ancillary systems (namely balances computed in the Portuguese retail payments system, SICOI)
Payments are settled on an individual basis in real time and, once settled, they are final and irrevocable.
Although it is preferably intended for large-value payments, TARGET2 ensures the settlement of all types of payment, regardless of their value. 
Information for professionals
Functionalities

To allow for the immediate settlement of payments, each direct participant is identified through a SWIFT address and holder of a deposit account in the payments module, opened with a central bank participating in TARGET2, as illustrated below.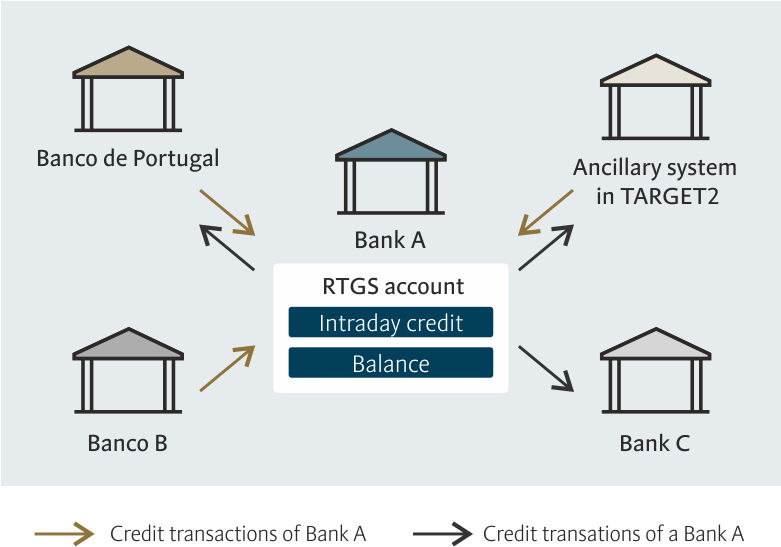 In deposit accounts called RTGS accounts, all types of payment are settled, such as payments originating in central banks (Eurosystem credit transactions, cash deposits and withdrawals), interbank payments, customer payments, direct debits, liquidity transfers, and payments originating in ancillary systems.
Liquidity sources available for payment settlement are account balances, intraday credit and the optimisation of the queued payments.
TARGET2 therefore provides participating institutions with a series of functionalities aimed at promoting efficient liquidity management, notably:
the possibility of obtaining an intraday credit line with the central bank, where guaranteed by previously deposited eligible collateral. In this case, liquidity is provided to the participant's account according to needs; this account's position may have an overdraft up to the limit of the amount of the credit line entered into and recorded in the system
the assigning of a priority to each payment
the possibility of establishing the time of settlement of payments
the liquidity reserve for highly urgent and urgent payments
the definition of limits for bilateral and multilateral amounts, i.e. for one participant or all participants in the system
the possibility of blocking liquidity to settle payments originating in ancillary systems
the establishment of groups of accounts or virtual accounts for multinational banks or various accounts of the same bank
queues for unsettled payments and the possibility of changing their priority or order in the queue, or changing the time of pre-defined settlement or, at most, excluding payments
a sophisticated payment processing mechanism based on their order of entry in the system and on a set of algorithms that make it possible to optimise the use of the liquidity available
an interface devoted to the settlement of payments originating in ancillary systems, associated with six settlement models that make it possible to accommodate the characteristics and needs of retail systems, payments of large amounts, of foreign exchange, money market payments, central counterparty payments, and securities settlement system payments

Additional information can be found in Banco de Portugal's Instruction n. º 54/2012 and in the technical and functional documentation. Information about the access to TARGET2-PT for entities in resolution is available via the following document: FSB Questionnaire on Continuity of access to FMIs for Firms in Resolution – Response for TARGET2-PT.

Calendar and timetable
TARGET2 operates every working day except for New Year's Day, Good Friday, Easter Monday, 1 May, Christmas Day, and Boxing Day.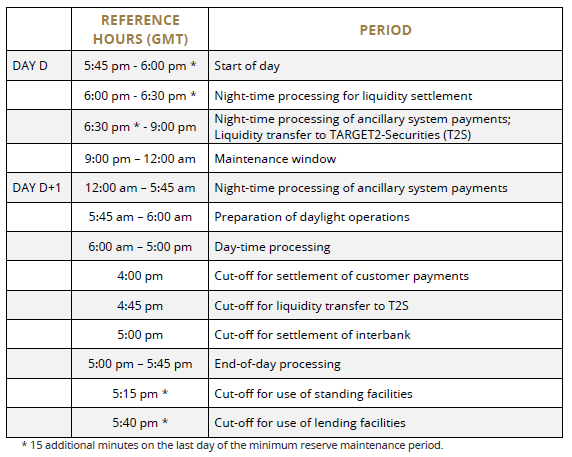 Pricing

For information access Pricing.

For more detailed information please consult "USER INFORMATION GUIDE TO THE TARGET2 PRICING" on the ECB's website.