You are here
Press release of the Banco de Portugal on the March 2022 issue of the Economic Bulletin
24 Mar. 2022
The Portuguese economy will maintain a growth profile in 2022-24, amid heightened uncertainty associated with the conflict in Ukraine. Gross domestic product (GDP) will grow by 4.9% in 2022, 2.9% in 2023 and 2.0% in 2024, benefiting from larger inflows of EU funds and continued favourable financial conditions. Inflation will in rise in 2022 to 4.0% – reflecting higher commodity prices and global supply chain disruptions – and will decline to 1.6% in 2023 and 2024.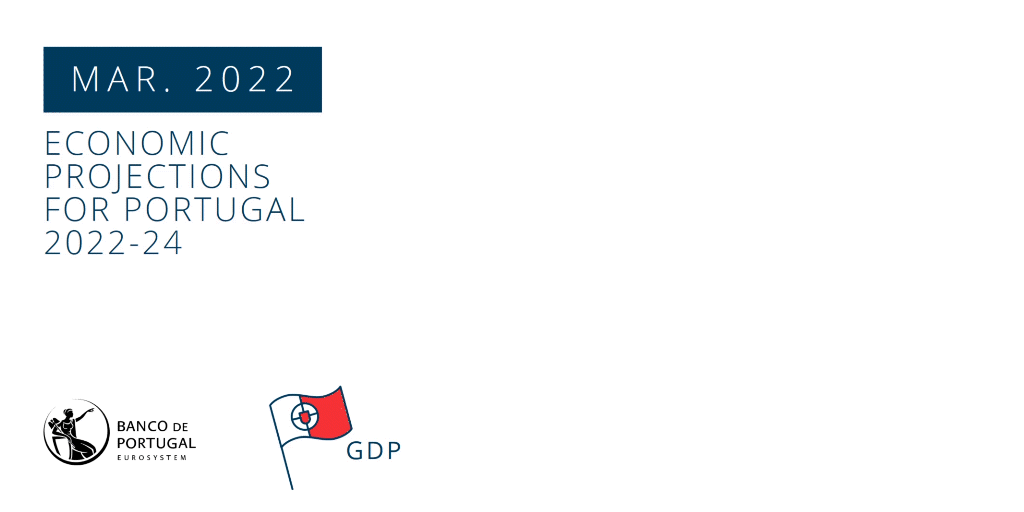 The Russian invasion of Ukraine contributes to limiting economic momentum and building up inflationary pressures. The negative impact on activity stems from even higher commodity price increases, reduced confidence among economic agents, financial market turmoil and the effects of trade and financial sanctions imposed on Russia. Underlying the projections is the assumption that the conflict will not escalate and that the impact of these factors and global supply constraints will unwind in the medium term. 
Compared to December, projected GDP growth is 0.9 p.p. lower in 2022 and 0.2 p.p. lower in 2023, while remaining unchanged in 2024. The revision for 2022 reflects lower growth in the fourth quarter of 2021 and weaker indicators in the first quarter, owing to the fifth wave of the pandemic at the end of 2021 and the first weeks of 2022 as well as the military conflict, together with reduced purchasing power due to inflation and less favourable external assumptions. Inflation has been revised upwards, particularly for 2022 (2.2 p.p.), reflecting recent high figures and the upward revision of assumptions for oil and other commodity prices.
Private consumption growth will be supported by the increase in disposable income and favourable financial conditions. The savings rate will decrease to 7.3% in 2022 and remain relatively stable in 2023 and 2024. 
Investment will grow by 7.6%, on average, in 2022-23, benefiting from an increase in European funds, prospects for a recovery in demand and the gradual unwinding of global supply chain disruptions. 
Exports will continue to combine the favourable momentum of external demand for goods with the recovery in international tourism flows, assuming that the conflict in Ukraine has limited effects. Services exports will increase by 38.5% in 2022 – exceeding their pre-pandemic value in the first half of the year – and grow more moderately in the following years. 
The current and capital account will record a deficit in 2022 (0.4% of GDP), reflecting a deterioration in terms of trade. In 2023 and 2024, it will return to surplus, associated with the recovery in tourism and larger EU funds.
Employment will continue to increase, but at a gradually slower pace. The unemployment rate will decline to 5.9% in 2022 and more gradually in the following years.
Risks of more significant spillovers from the conflict in Ukraine with the imposition of additional sanctions on Russia, further commodity price hikes, greater global value chain disruptions, amplified uncertainty and financial frictions would imply lower economic activity growth and higher inflation.
Against this background, economic policy responses at both domestic and European level are crucial to ensure sustained growth. It is important that Portugal demonstrates the capacity to absorb the available resources from the Recovery and Resilience Plan and that these resources materialise into a permanent increase in productive capacity. To converge towards the European Union, it is also essential to continue to increase the skills of the labour force and productivity.