You are here
Commemorative coin 'A Coin for Peace' will start circulating on 15 November
08 Nov. 2023
The Banco de Portugal will put a commemorative coin into circulation from 15 November 2023, with face value of €2, entitled 'A Coin for Peace'. The coins will be distributed to the public through credit institutions, the Banco de Portugal's cash offices and the shops of Imprensa Nacional – Casa da Moeda (Portuguese Mint and Official Printing Office).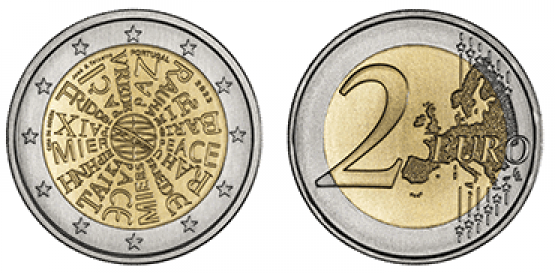 The 'A Coin for Peace' coin has the following features:
On the national side:
In the centre, an armillary sphere and, surrounding it, the word 'PEACE' in the 16 official languages of the 20 euro area countries. These inscriptions symbolise different identities, while establishing a dialogue converging towards a common goal – Peace;
Around the upper edge, the words 'Casa da Moeda', 'Portugal' and '2023' and the name of the author;
Surrounding the design, the 12 stars of the European Union forming a circle. 
On the common side: 
The European design used on euro coins in circulation.
The characteristics of this coin were approved by Executive Order No 151/2023, published in the Official Gazette, Series I – No 109 of 6 June 2023.
The issue limit was set at 500,000 coins with normal finish.
Note:
The Banco de Portugal sells commemorative coins to the public exclusively through its cash offices (normal finish only). 
The Banco de Portugal does not reserve coins nor send them by post.