You are here
Collector coin 'The Unicorn' will start circulating on 20 September
13 Sep. 2023
The Banco de Portugal will put a cupronickel-alloy collector coin into circulation from 20 September 2023, with face value of €5, entitled 'The Unicorn', within the 'Heroes and Creatures of Mythology' series. The coins will be distributed to the public through credit institutions, the Banco de Portugal's cash offices and the shops of Imprensa Nacional – Casa da Moeda (Portuguese Mint and Official Printing Office).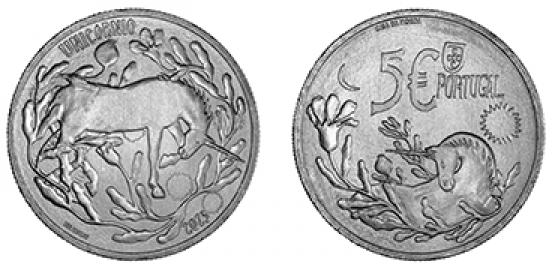 'The Unicorn' coin is only legal tender in Portugal and has the following features:
On the obverse: 
At the bottom, the image of a unicorn resting on pomegranate tree branches;
On the upper left side, a moon; 
On the upper right side, a sun;
At the top, the face value, an escutcheon from the Portuguese coat of arms and the word 'Portugal';
Around the edge of the upper left quadrant, the words 'Casa da Moeda'.
On the reverse: 
In the middle, a unicorn standing, hiding among the branches of a pomegranate tree with several suns behind it;
Around the upper edge, the word 'Unicórnio';
Around the lower edge, the name of the author and the year '2023'.
The characteristics of this coin were approved by Executive Order No 117/2023, published in the Official Gazette, Series I – No 90 of 10 May 2023. 
The issue limit was set at 30,000 coins with normal finish.
Note:
The Banco de Portugal sells collector coins to the public exclusively through its cash offices (normal finish only). 
The Banco de Portugal does not reserve coins nor send them by post.